Let's have dinner a la francaise!
Let's have dinner a la francaise!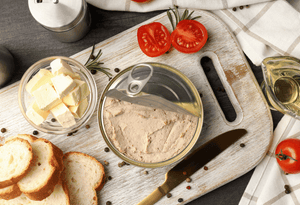 Today, I'd like to talk about the importance of reducing cooking time for French people and how it improves their quality of life.
Le "bonheur individuel" (personal happiness)
In France, people peoples tend to think personal happiness is an important part of their life and believe that when an individual is happy, his/her family and surroundings will be happy too. Reason why French people usually try to get as much free time as possible with long holidays or cozy evenings at home for example.
In Japan, it seems that society tends to prioritize collective harmony which can sometimes lead to neglecting oneself's individuality. I believe it could be one of the reason why Japanese are working so hard at everything they do, whether at work or at home for example. It appears that for Japanese, priority would be to make OTHERS happy.
With their more individualistic approach, French people are always looking for ways to increase personal free time and it naturally affects the way they cook too. 
Japanese food is amazing but takes much effort
My wife told me one day that people, especially working mother, tend to be frustrated about heavy cooking preparation. Because it is said that " One soup, three dishes (plus rice)" make an ideal dinner, or " Win the men's heart through their stomach". Which means Japanese women need to spend a long time cooking in order to get things done and they might get very tired of this " ideal dinner" routine every day.
But in France it's different. After a long and exhausting day at work, we don't really want to spend time in the kitchen and keep the cooking activity as short as possible in order to relax and enjoy free time, while making sure the diner itself will be good and enjoyable.
Do you want to know how we can do that?
The secret of effortless French Meals
It's very simple: France has tons of high quality and delicious products which do not need actual cooking. Cheese, saucisson, pâtés, canned seafood and so on, usually combined with wine, bread and a salad will make up for a wonderful diner, home party or even picnic.
This type of food, which is extremely varided and popular, is often made by local skilled artisans who provide very high quality and good products. They are very active and it is always easy to find their specific food everywhere in France, where each region has its own specialities.
I and my wife regularly prepare this effortless French meal to spend more quality time as a family, simply watching movies at night, playing boardgames or just relax and chat in the sofa, and I must admit it became an important part of our daily life.
We sincerely hope that, with the help of Les Terroirs, Japanese people can have a taste of French effortless dinners, with products such as Saucisson, Canned Seafood or Pâté, and spend more time with their family and friends :)