Enjoying life the French way #4 - La Tartine
Enjoying life the French way #4 - La Tartine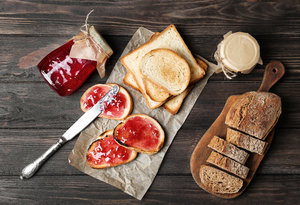 Did you know that bread is an integral part of French cuisine and probably one of its most iconic food? With its rich tradition of bread making, it holds a significant importance in the French culture and diet, similar to how rice is a staple and an essential part of Japanese food culture. 
French people eat bread on a daily basis!?
In fact, the French hold a deep affection for bread, and it is not only consumed as a side dish, but also serves as the base for a good part of their meals. A prime example of this is the Tartine, an open-faced sandwich composed of a slice of bread, typically toasted or grilled, and topped with an array of sweet or savory ingredients including cheese, meats, vegetables, jams or spreads. This allows for an abundance of flavors and textures to be enjoyed in every bite, and with endless possibilities and combinations it is possible to understand why the Tartine is an extremely popular dish in France!
Endless combinations of ingredients
Tartines are typically enjoyed for breakfast, a simple yet delicious meal that appeals to both children and adults alike. The traditional preparation involves spreading butter and jam on a piece of toasted bread, often a baguette or pain de campagne, which will usually be paired with a warm beverage such as coffee, tea, or hot chocolate, allowing for a great start of the day!
However, Tartines are not limited to breakfast and can be enjoyed throughout the day, from lunchtime until the cafes and bistros close in the evening. They can serve as a satisfying lunch meal, an afternoon snack, a light bite during aperitifs, a final indulgence before bed, or even as a dessert.
The Tartine can be simple, featuring a classic combination of bread and cheese, such as Roquefort, or it can be elevated with luxurious ingredients like smoked salmon, truffles, pâté, foie gras, or caviar, but meats such as french salami,  pâté, fish such as tuna salad, salmon, herring or scallops are also common toppings. Additionally, many Tartines include an array of fresh vegetables such as lettuce, tomato, and avocado, making them both delicious and nutritious.
Simply put, French Tartines are a truly savory and versatile dish that can be enjoyed at any time of the day: from a simple and classic combination, like butter and jam, to a more elaborate and gourmet creation, there is a Tartine for every taste. Whether you're looking for a light breakfast, a light lunch, a starter or a dinner, Tartines are a delicious and easy meal to prepare and we hope you too will try preparing one for for a joyful and relaxing time with your loved ones.