A French traditional Crepe receipe, and a special ingredient
A French traditional Crepe receipe, and a special ingredient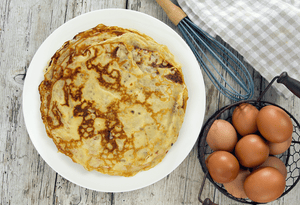 Do you know that French people have a Crepes' day at the beginning of February? It is called "La Chandeleur" and it has a blend of religious and superstitious origins: The round shape and golden color of Crepes would symbolize the return of light during the arrival of spring, as the days get longer in February, a way to celebrate the brighter and better days to come.
In my childhood, I used to wait for this day impatiently. My grand mother would invite our family and cook tons of crepes for us, with a special recipe of her own (she was from Northern France), and we would spend a delightful afternoon at her place, just chatting and and enjoying those precious times.
Crepes are very popular and common in Japan. But would you like to discover a traditional French family recipe with the secret ingredient from my Grandma?
Let me introduce the Crepes with beer, an ingredient that brings a lighter, smoother and tender texture to the Crepes. And don't worry, kids can enjoy them too!
 Total time
Preparation time: 15 minutes
Resting time for the batter: 60 mn
Cooking time: 25 minutes
 Ingredients
4 people serving (15-20-crepes):
300g flour
50 cl Milk
25cl lager beer
3 eggs
6 tablespoons of olive oil
2 tablespoons sugar
a pinch of salt
 Directions
Step 1
Pour the flour into a mixing bowl and form a well. Pour the milk into the well in several parts, mixing the flour into the milk a little at a time to incorporate it without creating lumps. Then add the beer, and mix again.
Step 2
Beat the eggs and add them to the dough with the oil.
Step 3
Pour in the sugar, and salt, and mix well
Step 4
Let the dough rest for at least 1 hour (the longer it rests the better).
Step 5
After this resting time, mix a little more again and start cooking your crepes in an oiled pancake pan.
Step 6
Cook the crepe on medium-high heat until golden colors appear on the bottom, it will take around 40-60 seconds. Then, using a spatula, flip the crepe and cook it for 30 to 60 seconds.
Repeat with the remaining batter, cooking each crepe after the first few for about 30 seconds on each side. Cover the crepes with a towel to keep them warm.
Step 7
garnish as desired with honey, jam, spread… or just sprinkle with brown sugar.
Bon appétit!