Enjoying caviar at home: some recommendations
Enjoying caviar at home: some recommendations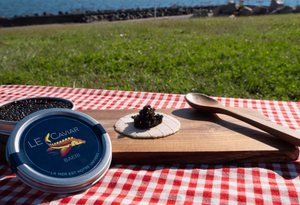 In this article, we will introduce ways to enjoy caviar at home with simple ingredients and short preparation time.
The caviar than can be found on Les Terroirs is selected because of its rich flavor and delicious taste so that it can be enjoyed by everyone.
But have you ever tried caviar? Most people have surely already eaten small amounts of caviar on top of food or on crackers at restaurants or parties, while probably rarely or maybe never experienced caviar at home.
Now, maybe you bought a can of caviar and wonder how you should eat it, and you might want to know how to prepare such expensive food.
Don't worry! Actually the finest caviar can be enjoyed with simple ingredients found at home or in supermarkets.
Let us introduce some examples of very easy and tasty recipes, which should help you enjoy your caviar, especially if you are new to the art of eating it at home.
Caviar with sof-boiled eggs
In this recipe, Caviar only needs to be put it on a boiled egg! It's very easy, and the rich iodine flavor will perfectly with the taste and texture of boiled eggs. It's a recipe that both children and adults can enjoy.
Ingredients (for 2 people)
- 2 boiled eggs
- 1 tablespoon of caviar
- olive oil (optional)
Preparation
1. cut a boiled egg in half
2. place the caviar on the cut boiled eggs and drizzle the preparation with olive oil if desired.
And that's it! In addition to the perfect flavors fit of this preparation, the combination of a firm caviar bursting in your mouth with the boiled egg's soft texture is simply amazing. It can actually become addictive so be careful and watch your kids!
Caviar Canapés
Ingredients (for 1 portion)
- thin slices of soft bread or thin plain crackers
- butter (if you want to spread it on the bread/cracker) 
- 1 coffee spoon of caviar 
- additional chives, Italian parsley, etc. (optional)
Preparation
1. spread butter on top of your bread or even cracker. Soft cheese can be used instead of butter for an even more interesting recipe.
2. Put caviar on top of your bread or cracker preparation.
3. Garnish with chives, Italian parsley, etc. if desired
A simple yet delicious recipe that will allow you to further enhance caviar's flavors. Combined with champagne, you will get a luxurious and definitely memorable experience.
A few other example of caviar preparations
We just introduced two simple ways of enjoying caviar at home, but there are actually many other possibilities and options for you to go with. Here are a few examples.
・Caviar with scallops  
Simply lightly fry scallops with butter for a nice sauté scallops preparation, and spread gently a coffee spoon of caviar on top of it. 
The butery and slightly sweet flavor of scallops will perfectly pair with the rich and powerful iodine aroma from caviar.
・Caviar with pasta  
Simply add a small amount of caviar with cold pasta (capellini), carbonara pasta, oil sardine pasta, etc., The caviar flavor will spread gently in your mouth and your pasta preparation will be greatly enhanced.
・Caviar with roasted Mochi  
For a combination with a traditional Japanese dish, simply put caviar on top of a roasted rice cake "Mochi" (焼いたおもち)
The pairing of roasted flavor and mochi's texture with the delicate caviar aroma is a true delight.
Of course, there are many more other recipes and ingredients to pair with caviar and we might have to write even more articles in that matter, but we hope, with the few examples above, you will enjoy making caviar at home like we do!

Bon appétit!